Cha Ching! Wait until you see these money bags!
Want my next FREE Penny Stock Report? Click here now!
100 Spots remain on my Mega "Deal" 1/27
73 Spots remain on my Mega "Deal" 1/30
49 Spots remain on my Mega "Deal" 2/1
33 Spots remain on my Mega "Deal" 2/3
12 Spots remain on my Mega "Deal" 2/4
Quickly, congrats on our Monday Money Trades: PHOT alerted $.045 Thursday, possible gain (see image below) 80%. MJNA alerted $.11, possible gain 300% (see image below)
Ok, let me now turn it over to Xer0mk (ps thanks to Xer0mk I am offering you a $100 off link below because I want YOU to share the same experience as Xer0mk has)
"Jeff,
I really want to thank you and your lessons personally. It's allowed me to really grow as a trader to the point where I started a few months ago with only $3,000, and now have enough to fund an entire semester at college to further my education. And that's all money I've made while being a SuperNova member. Does not include money from my jobs or anything. Being a lucky trader and jumping on P&Ds made me little money. But actually learning and utilizing knowledge made me a lot of money. – X
If you are SICK OF LOSING and would like to join a team lead by a Penny Stock / Small Cap stock trader of 16 years who has a Masters degree that I use to help TEACH you exactly what I do; DOMINATE the stock market!
Click here now to be one of the last 12 to get $100 off TONIGHT!
Cheers
Jeff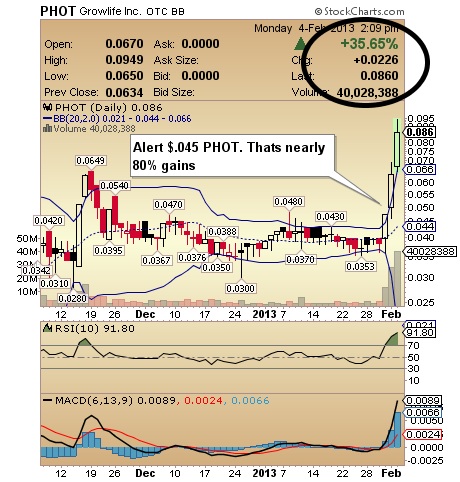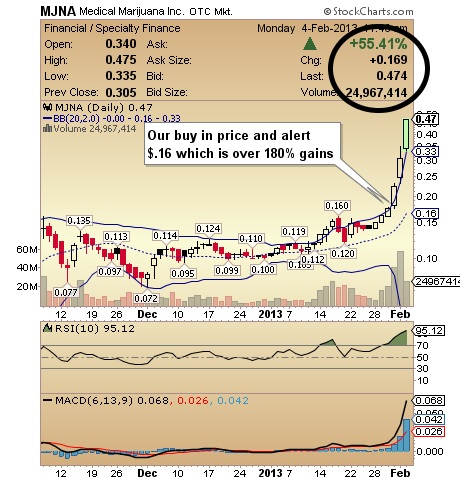 About BeaconEquity.com
BeaconEquity.com is committed to producing the highest-quality insight and analysis of small-cap stocks, emerging technology stocks, hot penny stocks and helping investors make informed decisions. Our focus is primarily OTC stocks in the stock market today, which have traditionally been shunned by Wall Street. We have particular expertise with renewable energy stocks, biotech stocks, oil stocks, green energy stocks and internet stocks. There are many hot penny stock opportunities present in the OTC market everyday and we seek to exploit these hot stock gains for our members before the average daytrader is aware of them.
Beacon Equity Group Disclaimer
This newsletter is a paid advertisement and is neither an offer nor recommendation to buy or sell any security. We hold no investment licenses and are thus neither licensed nor qualified to provide investment advice. The content in this report or email is not provided to any individual with a view toward their individual circumstances. Beaconequity.com is a wholly-owned subsidiary of BlueWave Advisors.
While all information is believed to be reliable, it is not guaranteed by us to be accurate. Individuals should assume that all information contained in our newsletter is not trustworthy unless verified by their own independent research. Also, because events and circumstances frequently do not occur as expected, there will likely be differences between the any predictions and actual results. Always consult a real licensed investment professional before making any investment decision. Be extremely careful, investing in securities carries a high degree of risk; you may likely lose some or all of the investment.